Wood Floor Refinishing & Hardwood Flooring Restoration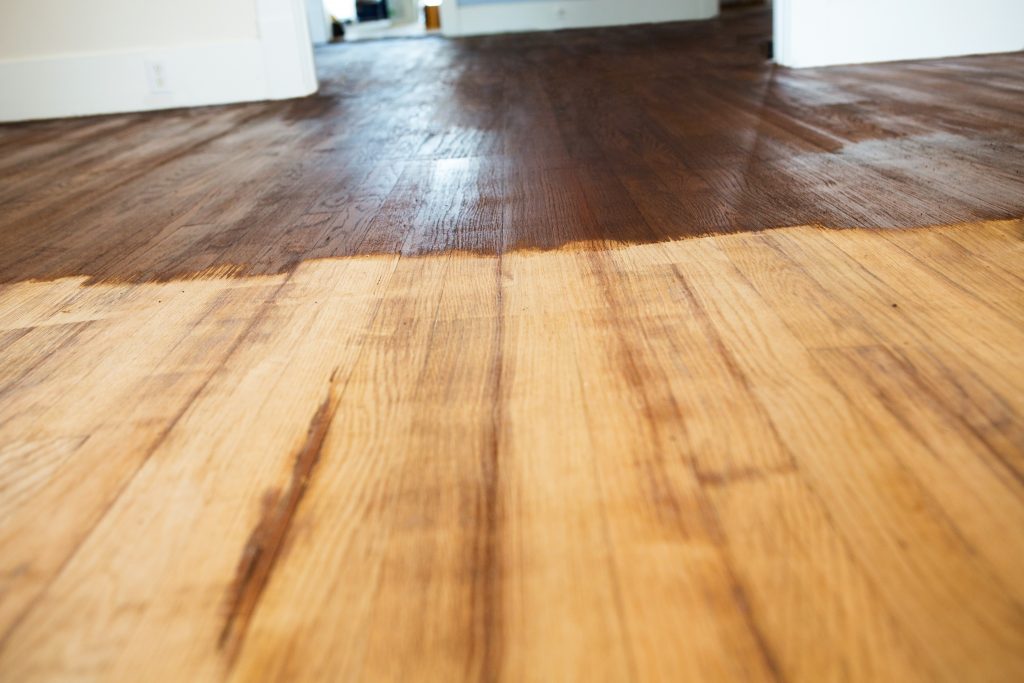 Beautifully Refinished Hardwood Floors Edwardsville Bethalto Pontoon Beach IL
Do you own a home with hardwood floors in it? Our remodeling customers in older homes are often surprised at what a jewel they have under their feet. There's a reason hardwood floors are expensive to have installed - they're durable, and they can be refinished to look just like new again.
At Collinsville Home Remodeling & Kitchen Cabinets, we are experts when it comes to breathing new life into that old hardwood flooring. If you've never investigated the possibilities present in professional wood floor refinishing services, I would highly recommend you speak with us and let us show you some pictures of what refinished flooring looks like. Our customers are simply AMAZED at the difference present between what their old flooring looked like compared to restored hardwood floors, and you will be too!
Wood Floor Restoration Service Collinsville Glen Carbon Maryville
Wood floor refinishing typically takes a few days to complete. When you hire us to restore your flooring for you, we will need the rooms to be cleared out so that we can begin our prep work to sand the old finish off the flooring. Typically we will go over the floors several times with our sander using different grains of - from course sandpaper to finer sandpaper - until we get the exact texture we're looking for.
Once sanding is complete, it is time to move on to staining your floors.
Get a free quote at 618-248-0745
Hardwood Flooring Sanded Stained & Sealed in Madison County Illinois
Stains come in a variety of colors, and we are happy to show you all the different options and shades available to you for your newly restored wood flooring. If you'd like, we can apply a small section of stain to the sanded flooring just to show you what the finished product will look like with that flooring stain, and you can choose whether that's the color you like or if you're like to go with another floor stain.
Once your color is picked, we will stain the entire sanded flooring until it is fully stained and then we will let it sit. After the stain has set in to the wood, we will begin the process of sealing your flooring with a polyurethane sealant. The polyurethane will lock in the color, give your flooring a glossy finish, and will act as a extra protectant against rot, moisture, and normal wear and tear.
It is very important after the application of polyurethane that the spaces be protected from dust exposure while the polyurethane sets. We will take special care to ensure all dust is removed from the space and vents are covered ahead of time to keep dust from blowing into the rooms, otherwise the dust particles will get stuck in the polyurethane.
Exquisite Hardwood Flooring in Collinsville IL
In the end, you will be shocked at how great your flooring will look. Real hardwood flooring is some of our favorite material to work with, and we love doing hardwood flooring refinishing projects mostly because of the large smiles we see on the faces of our customers once we're done.
We refinish hardwood flooring all over the metro east - in Collinsville, Edwardsville, Maryville, Glen Carbon, Wood River, Pontoon Beach, Caseyville, Swansea, O'Fallon, Fairview Heights, and the surrounding areas in Madison County and St Clair County. Floor refinishing is one of our favorite things to do, and if you have a project idea you'd like to speak with us about we would love to hear from you. Our quotes are always free of charge, so feel to give us a call today if you'd like to set an appointment for one. You can call us at 618-248-0745
We look forward to hearing from you!